I will be starting a scifi fantasy chat channel on mIRC for those interested.
check out the forum and talk to other scifi and fantasy fans!
Come play the live action game I'm starting in March 2003.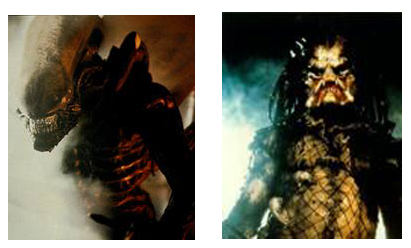 Alien vs Predator?
ALIEN VS PREDATOR?
Okay already whats the freaking deal here? We Alien & Predator fans have been drooling over this controversy for over ten years now and still no news on what the status report of the film is... the projects been scrapped reopened and scrapped again and has been cloaked in secerets and controversy for many years now. And still there is no official news or word on the progress of the project. By the time these people figure it out we won't need to see the movie because it'll be a reality!
Just goes to show how Hollywood can be one messed up entitity. I think that when the movie is finally released though if done correctly it will either be one of the most fantastic tales ever shown on the silver screen or the biggest flop to ever come out of Hollywood. Let us hope for a movie that is well deserving of the titals...
Alien and Predator